AUBREY EVERYDAY SCARF KNITTING PATTERN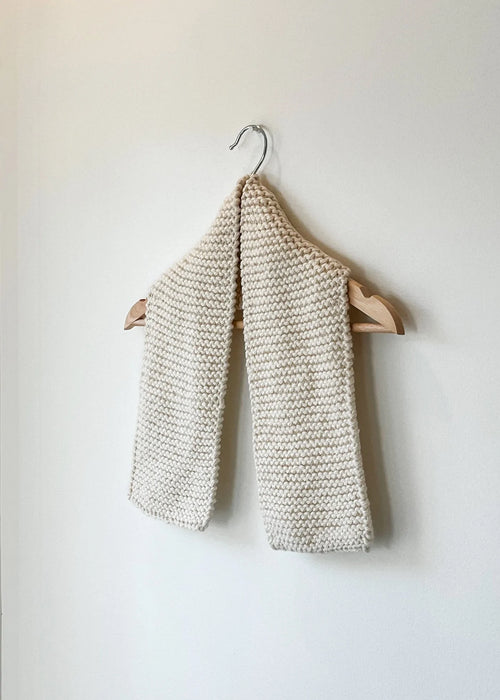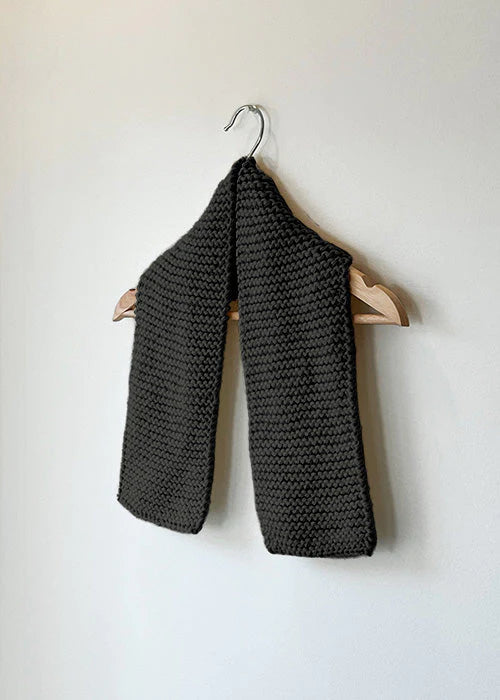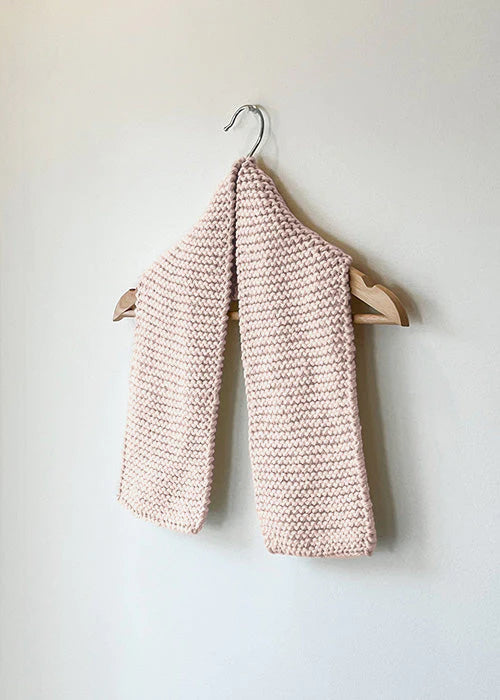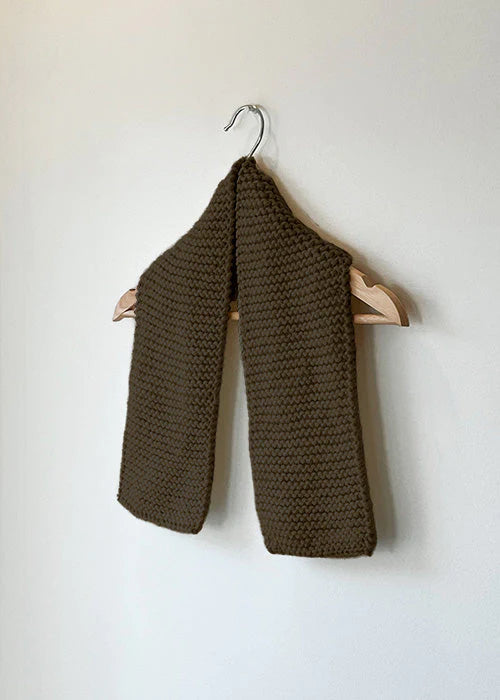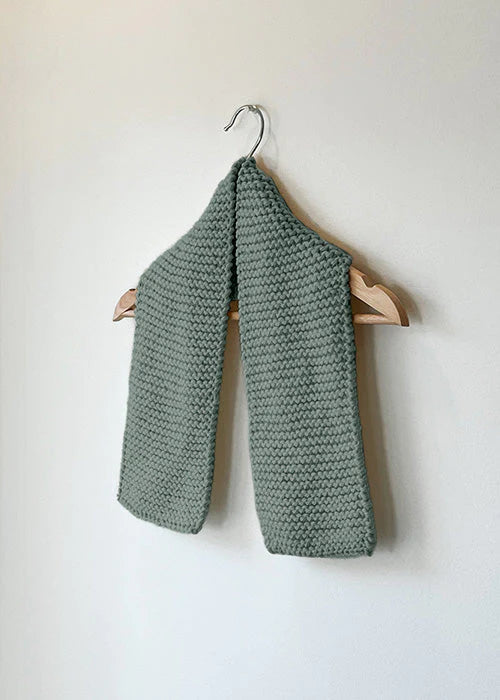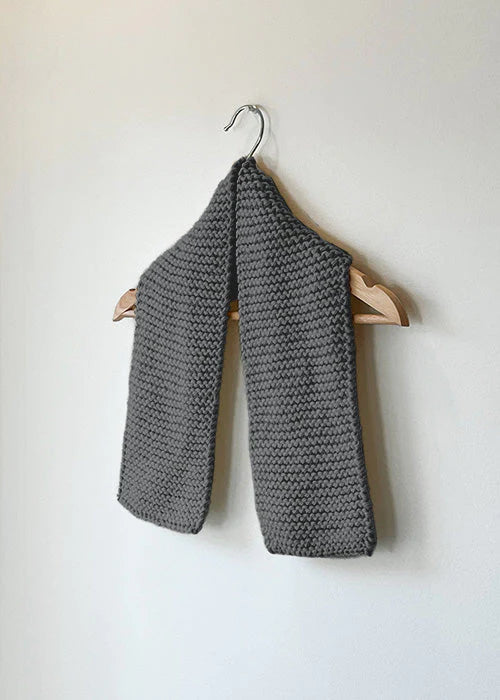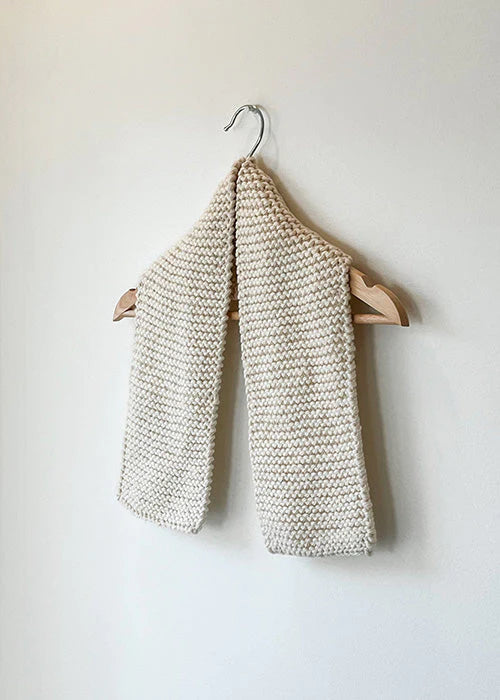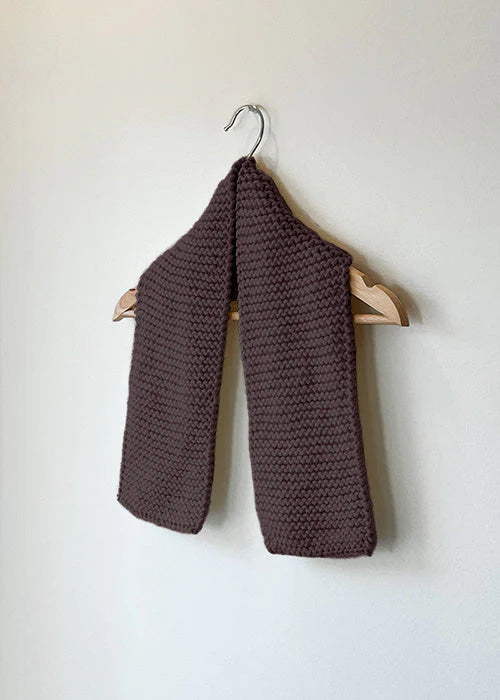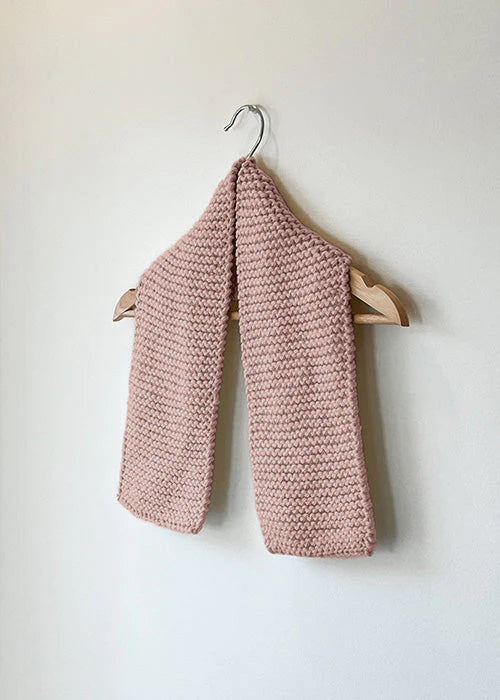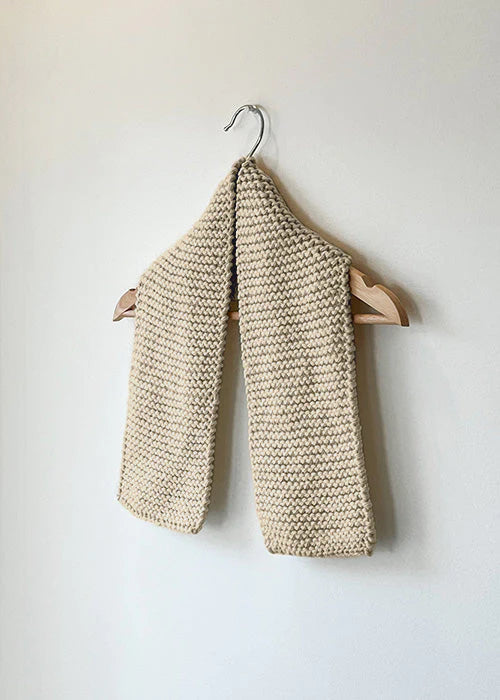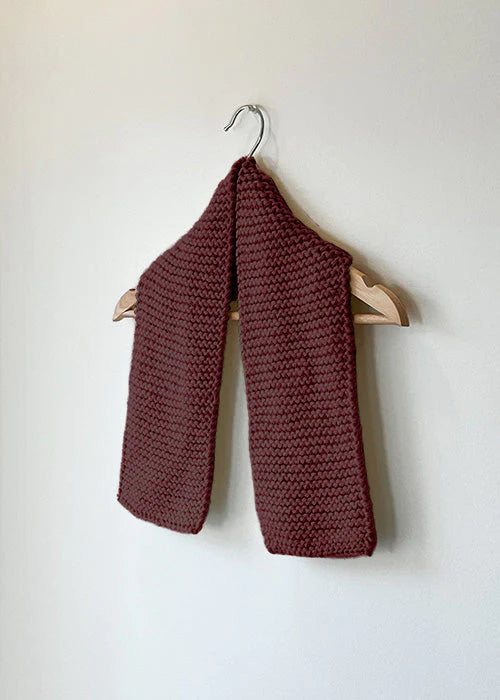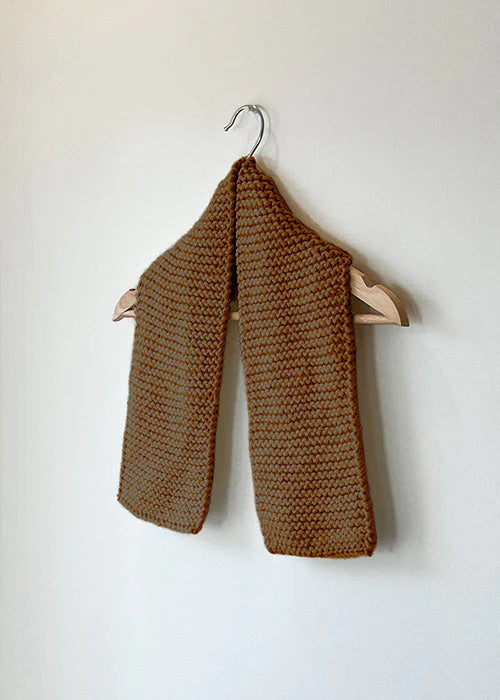 ABOUT THE PROJECT:

HEY, FIRST-TIME KNITTERS! THIS PROJECT WAS DESIGNED FOR YOU!  
NOT TOO BIG, NOT TOO SMALL, OUR ULTRA COZY AUBREY SCARF WILL HAVE YOU REACHING FOR IT EVERY TIME YOU WALK OUT YOUR DOOR.  IT'S JUST THE RIGHT WIDTH AND LENGTH TO WRAP BEAUTIFULLY AROUND YOUR NECK,  ADDING A TOUCH OF COZY TO YOUR WINTER WARDROBE BY TAKING THE FROSTY CHILL OUT OF THE AIR.   
PROJECT SKILL LEVEL: LEARN-TO-KNIT
OUR LEARN-TO-KNIT PATTERNS ARE DESIGNED FOR ANYONE WHO IS PICKING UP KNITTING NEEDLES FOR THE VERY FIRST TIME.  WE WILL GUIDE YOU STEP-BY-STEP ON HOW TO GET YARN ONTO YOUR NEEDLES, TEACH YOU THE FOUNDATIONAL KNIT STITCH, AND HOW TO FINISH YOUR WORK IN A WAY THAT LOOKS ULTRA-PROFESSIONAL.  
THE AUBREY EVERYDAY SCARF WAS DESIGNED WITH SIMPLICITY IN MIND.  SIMPLE PROJECTS WITH LOTS OF REPETITION ALLOW YOU TO GET INTO A NICE RHYTHM SO YOUR BRAIN, HANDS, NEEDLES, AND YARN CAN LEARN HOW TO WORK TOGETHER AT THE SAME TIME.  AT THE HEART OF IT, REPETITION BUILDS STITCH MASTERY AND KNITTING CONFIDENCE!  

TIME TO MAKE: 4-5 HOURS 

FOR THIS PROJECT, YOU WILL NEED:
1 BALL OF PROJECT WEEKEND LOLL.  EACH BALL WEIGHS 125gr. (4.4 oz) and has 125m (137y)

1 PAIR OF 7mm / US 10.75 KNITTING NEEDLES

1KNITTER'S SEWING NEEDLE
PATTERN SIZE:  ONE SIZE (FITS ADULTS & YOUTH)
PROJECT MEASUREMENTS (FINISHED DIMENSIONS):
FINISHED WIDTH: 6"
FINISHED LENGTH (RELAXED): 26.5"
TECHNIQUE TUTORIAL VIDEOS & ILLUSTRATIONS
WE'VE MADE LEARNING EASY!  EASILY REFERENCE OUR LIBRARY OF TUTORIAL VIDEOS AND STP-BY-STEP ILLUSTRATIONS WITH JUST A CLICK OF YOUR MOUSE.  LOOK FOR TUTORIAL LINKS EMBEDDED THROUGHOUT THE PATTERN.  WHEN IN DOUBT, JUST CLICK AND LEARN!
TECHNIQUES YOU WILL LEARN
HOW TO HOLD YOUR NEEDLES AND YARN

MAKING A GAUGE SWATCH

THE SLIP KNOT

CASTING ON STITCHES (USING THE LONGTAIL CAST-ON METHOD)

THE KNIT STITCH

BINDING OFF

WEAVING IN LOOSE ENDS
ABOUT THE YARN
THIS PATTERN WAS DESIGNED WITH LOLL, OUR EXCLUSIVE BLEND OF 65% MERINO WOOL AND 35% BABY ALPACA, WHICH HAS BEEN SUSTAINABLY GROWN AND SPUN IN THE HIGHLANDS OF PERU AND ARGENTINA.  SILKY SOFT, DECADENT, AND A BEAUTIFUL DRAPE, LOLL IS AVAILABLE IN 12 BEAUTIFUL AND SOPHISTICATED COLORS. 
EACH BALL WEIGHS 125g / 4.4 oz AND CONTAINS 125m / 137y OF YARN AND IS PRODUCED IN A FAIR TRADE CERTIFIED MILL. 
MODEL IS WEARING COLOR:  NATURAL (UNDYED)
PLEASE BE AWARE THAT THE COLOURS SHOWN CAN VARY FROM SCREEN TO SCREEN. WE TRY TO REPLICATE THE HIGHEST LEVEL OF COLOUR ACCURACY OF OUR PRODUCTS FOR ONLINE VIEWING, HOWEVER, WE CAN NOT GUARANTEE HOW IMAGES WILL LOOK ON INDIVIDUAL DEVICES.